Message from Frank Abrams, Founder Geescore™
Latest Update: At the start of 2021, we continue to deliver Jobseeker Scoring as a service.
We have developed front and back end methods to deliver a score in just a few seconds. We share the components of the score, remedial actions for both Jobseeekers and Clients posting jobs, as well as a download function to save a score, and include it in a job application.
Our data science team has expanded as we work on scoring validation to ensure bias-free and accurate scoring results.  
If you have any questions or comments about Geescore, please reach out — Thanks, Frank Abrams Founder CV
Finding exceptional Investors and CoFounders is a priority
We are looking for Investors and CoFounders who understand the service we have built, and believe that Geescore™ can revolutionize HR; fundamentally changing how people find and apply for work.
We are seeking CoFounders with imagination and experience.
Distribution & Sales
Finance
Technology
Our Geescore™ Jobseeker scoring service is built and operational We are on the path to get widespread distribution with tier 1 Job Portals, Staffing Agencies, Recruitment Agencies and large Corporates.
How we operate Geescore™
If you are an experienced CoFounder or Investor,  we'd like to share some of the ways Geescore™ operates. >>link<<
How to get Geescore™ Scoring as a Service
We have a well-defined process for Job Portals, Staffing Agencies, tier 1 Corporate HR and Recruiters to use our scoring services >>link<<
We don't have to make claims about what we intend to do. We have done it,
We work every day, to make the Geescore™ Jobseeker scoring service better.
Geescore™ Jobseeker Scoring as a Service
1. The Geescore™ scoring widget embedded into job postings and search results. [main service]
2. My JobScore – free scoring on any job posting, anywhere – search results on over a dozen Job portals (soon to be the top 50 global job portals) [a unique service just for Jobseekers]
3. The Jobposter chrome extension for free scoring of Candidates [try out Geescore™ ]
4. The Geescore™ dashboard API integrated into Client dashboards, or accessed inside the job posting [seamless integration]
Geescore™ Scoring Widget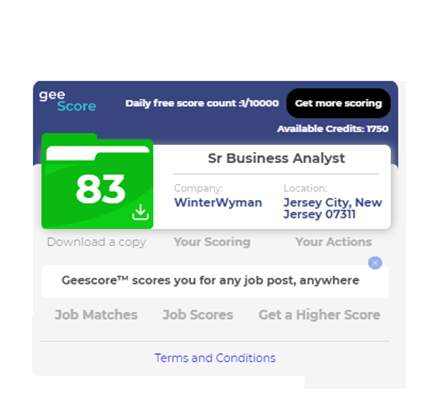 Component Scores & Actions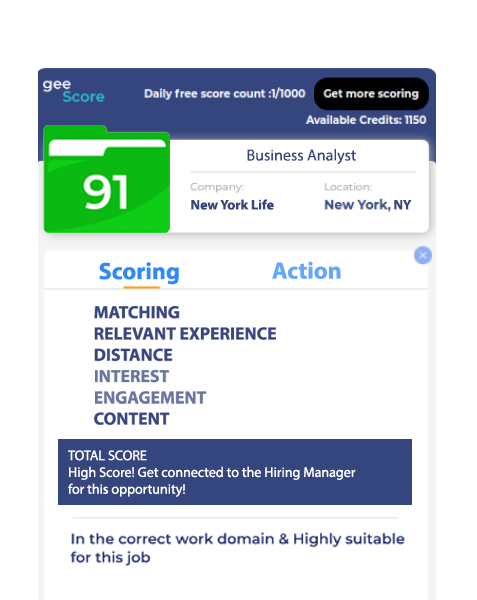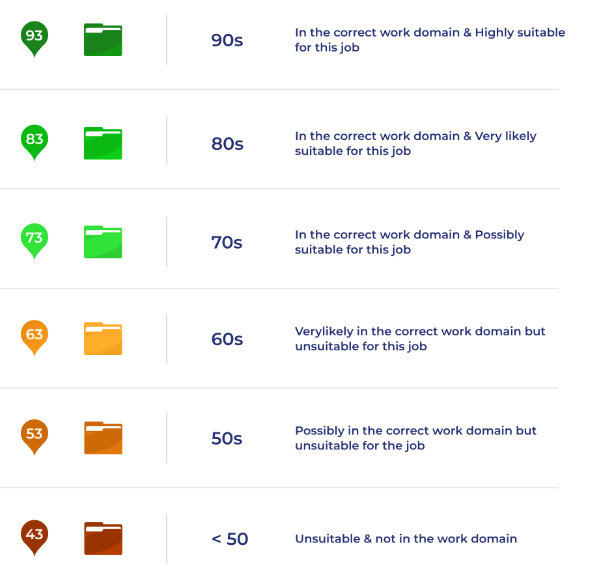 Matching Science, Machine Learning, Agorithms, & A.I.
Everything is focused on determining high Jobseeker suitability for a job, and confirming the Jobseeker's experience and competencies are in the correct work domain.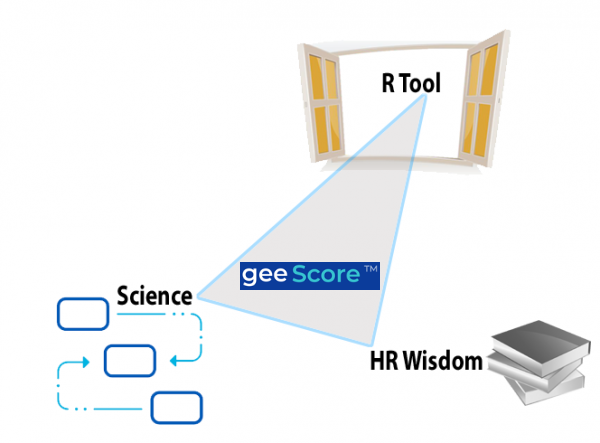 The Geescore™ scoring algorithms, and the machine intelligence processes to improve them, are founded on wisdom from real world recruiting and hiring experience. Geescore ™ has easy enterprise integration to Client dashboards via API.
Geescore™ is an automatic Jobseeker scoring service that is bias-free and objective
Geescore™ is hyper-fast (2 seconds 2020 performance target)
Geescore™ works with any job posting, anywhere, and the leading global job portals
Geescore™ works with any Jobseeker – upload a resume one time
Geescore™ factors in matching science, determines relevant experience, and scores other real world HR parameters, as well as using the most advanced LDA methodology
Geescore™ automatically improves based on machine intelligence and Jobseeker suitability evaluations
Geescore™ helps Jobseekers improve their scores by adding data, sharing links, and filling in missing information
Geescore™ is easy to use, free to try, low cost and low commitment
Geescore™ complements Job Portal performance programs
Geescore™ includes scoring validation procedures
Investor and CoFounder Opportunity
Looking for…
Someone who does a lot of thinking about the Geescore™ concepts, services, pricing, distribution channels, products.
Someone who loves the opportunity and sees how they can make it much, much better, and contribute to our success.
Someone who is a high-level, proven Contributor;

Deal track record,
Hands-on operational experience
Business network,
Investor connections; VC, Corporate VC, Angels, Funds
Dealbreakers
Not maintaining open communication channels
Abandoning the role; stopping to spend time and effort on the opportunity
Conflict of obligation or side deals
Unprofessional; cancelling commitments without discussion
Balance sheet lenders, rent seekers
The current burn rate is about US $ 10,000 a month.
There is no debt.
Geescore™ is owned 100% by Frank Abrams.
Frank Abrams
416 733-3001
fabrams@geemode.com